Back in 2018, I set my sights on a project called Medieval Shopkeeper Simulator. The indie game had just launched through Steam's early access program and I promised myself I would  do my best to give it a chance to impress. Then, as usual, life happened.
Last week, I finally found the time and means to sit down with BreakfastStudio's latest project. The title is unarguably promising and the critics reacted well to it, but is Medieval Shopkeeper Simulator really as good as they say?
Capitalism Is An Ancient Beast
Ever since civilizations started popping up throughout the world, riches reshaped people's lives. For as long as humanity has existed, money could buy food, goods, power, and even the respect of your peers. It is this chase for wealth that will encourage our unnamed medieval villager to open up a shop of his own.
You will be starting out small: a few tattered rags to cover your private parts, a handful of items to your name, a pet of your choosing – which seems to do nothing at the moment – and a decadent house to sleep in. If you play your cards right, however, you'll be able to change all of that pretty quickly.
Medieval Shopkeeper Simulator  puts you in full control of your newly-founded business. You'll have to rent out and manage your stall, make sure your warehouse is always stocked, and even decide the amount of gold each item is sold for. Earning cash is not all that's important, though.
As any businessperson would tell you, the customer's happiness always comes first. And if this sounds convoluted, it's probably because it is. In fact, I would suggest taking some time to familiarize yourself with the game's mechanics on your first run, especially since the provided tutorial can be a bit obscure.
Browse At Your Leisure!
Once your stall is all stocked up and ready to go, you'll be able to access the juiciest part of Medieval  Shopkeeper Simulator. As soon as you flip that "we are open" sign, customers from all walks of life will start pouring in. Some will want to buy basic goods –  like logs or rocks – others will be looking for more unconventional items.
Personally, I think this is where the game can be a bit challenging. Not only you'll have to ensure you're making a profit at the end of each day but you're also required to deal with each buyer in person. And since you only have about a minute to satisfy their requests – which often implies running back inside to fish items out of your warehouse – Medieval Shopkeeper Simulator can feel a bit overwhelming.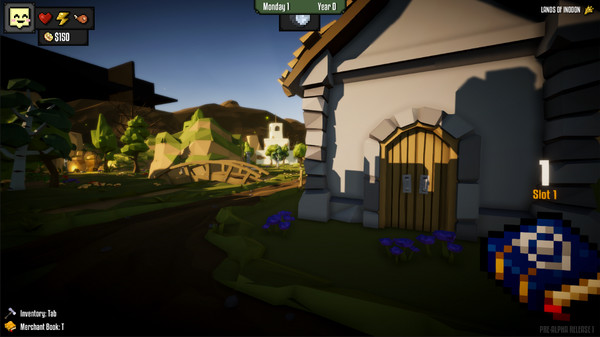 Crafting, placing restock orders, and talking to fellow merchants also become vital to the success of your business. The first will let you put your hands on more advanced goods; the second and the third seem like the only way to ensure you don't run out of merchandise.
This is all extremely realistic – which I am sure management-sim fans among us will find rather great – but I do wish the indie game was built with playability in mind instead. As it is, you will need a lot of patience even to just get things started; a remark which brings me to the major gripe I have with Medieval Shopkeeper Simulator.
Finger-Tangling User Interface
I could spend three or four paragraphs discussing the title's interesting aesthetics, or its attempt to simulate a thriving medieval village, or even the possibility for you to grow from beggar to wealthiest man of the land – but you won't find any of that in this review.
The truth, instead, is that I didn't have a chance to experience any of these presumably entertaining features. Not for lack of trying or laziness, mind you, but rather because I hit my face against the game's overly-engineered UI pretty hard. And by the time the dizziness had faded, I simply didn't feel like playing more of it.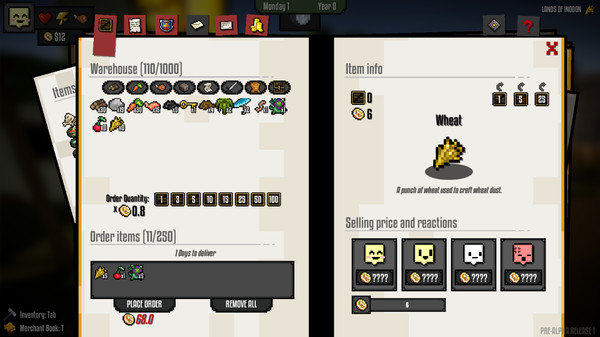 But let's try to unpack what I just said. Whenever you need to handle the stall's day-to-day operations, Medieval Shopkeeper Simulator has you hopping through multiple screens. This is not unheard of within the genre but also has the chance to immensely weigh a project down.
You can only craft from your inventory, for instance, but you'll first need to withdraw your stock from the warehouse in order to have the required materials for each build – and that can only be done from inside your house. In other words, even just ensuring you have the goods for each client becomes extremely time-consuming. And that's only a small part of the problem.
Can't Manage What You Can't Understand
The  awkwardness of Medieval Shopkeeper Simulator's UI goes beyond the mere window-hopping I just mentioned. In fact, the whole experience seems tainted by accessibility issues. Just to give you an example, I found myself stuck when I couldn't figure how to set a new item's price. The tutorial provided no explanation for that and I had to pull out my phone and ask Google for guidance.
There's also no way to stop the in-game clock and still  manage things – at least as far as I can say – meaning you won't be able to just trial-and-error your way through a problem until you make it. Instead, hitting the "esc" button on your keyboard will lock you into the options menu – which you can only leave through the "resume game" button but not with the same key you used to access it.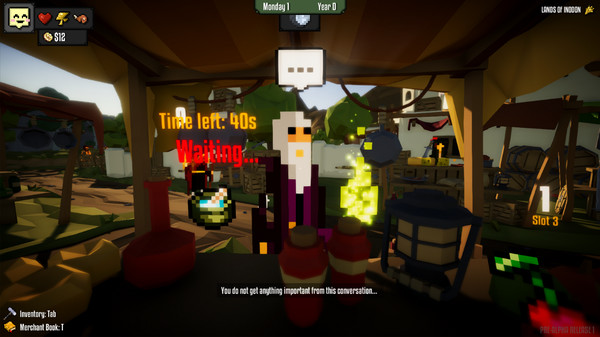 Finally, I would be inclined to say that the tutorial might need a bit of an overhaul. Not only it featured a couple of spelling mistakes – which we could easily overlook considering this is an alpha build – and leaves a lot to our imagination, but there also seem to be no way to bring it back if you accidentally close it before it is over.
Does Medieval Shopkeeper Simulator Get a Pass?
Giving a final verdict on a title that's still in early access has always been hard for me. On one hand, there you have a product that – in its current state – I wouldn't personally spend more time with.
On the other hand, Medieval Shopkeeper Simulator does have a chance to evolve into something interesting. That is why, at least with this indie game, I would suggest to proceed with caution.
You should definitely buy a copy if you feel you might like it – the price-tag currently says 9,99$ US or your regional equivalent and you could purchase the game from the Humble Store to support us. Before you do that, however, keep in mind that the project is still in its alpha phase.
Considering the scope of this game and the relatively small size of the studio behind it, there's a good chance Medieval Shopkeeper Simulator might take a long while to leave Early Access.